The Ultimate Google My Business Guide For Lawyers
Whether it's the local 3-pack results or your own branded knowledge panel, Google My Business is one of the best opportunities for lawyers to boost visibility and conversion rates with potential clients. The local pack - below - gets a ton of attention from searchers with local-intent ( they want a product or service from a business in their area ) and a well-optimized GMB listing is essential to get that visibility. Often these types of queries are highly competitive for lawyers so just being visible isn't enough, you also need to stand out. Beyond that, you also want to put your best foot forward with potential clients searching directly for you or your law firm online while they're doing research. Effective law firm seo isn't easy but these 8 GMB optimization tips will get you started in the right direction.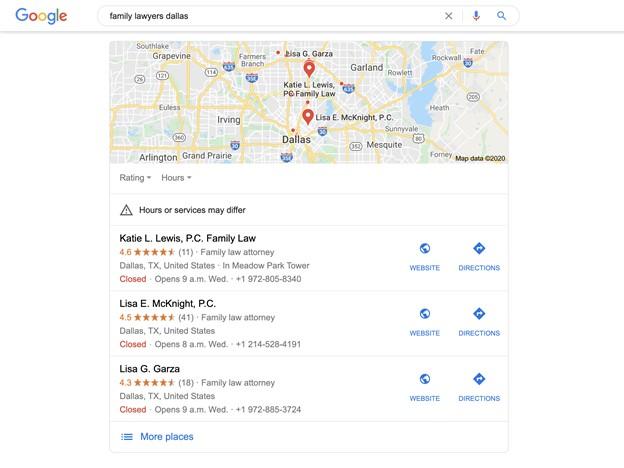 1. Choose A Specific Primary Category
For high-competition markets, the quickest way to get lost in the crowd is to be too general. If someone is looking for a criminal justice lawyer, family law, or real estate lawyer they're going to be more inclined to explore the law firm that appears to do specifically what they need help with. By choosing a primary category that closely matches the search intent your firm gets a couple of key advantages
Primary category is a ranking factor and your listing will be more visible for search queries related to your primary category. You'll likely rank better for "Dallas Family Lawyers" if you select "Family Lawyer" as your primary category.
Searchers will be more likely to click on a law firm that specifically offers the service they need
Of course, many law firms have multiple attorneys and a range of practice areas so there's a couple of ways to approach this.
Choose your most prominent service as the primary category and add all other practice areas as secondary categories - you can add up to 10 secondary categories.
A unique feature for lawyers is the ability to leverage individual practitioner listings. Individual lawyers at the firm can have their own listings which gives the business additional opportunities to use different primary categories. They can now rank for more terms and boost overall visibility.
2. Get More Reviews
Not only are reviews a ranking factor that can help your firm break into the local pack results, it's also what differentiates you from the competing lawyers once you get there. Review volume and ratings are a major factor when searchers are deciding which law firms to contact. In fact, some searchers will skip the website entirely and call a business after reading positive reviews on their GMB listing.
Google isn't the only player in the review eco-system. I'd also recommend doing a search for your law firm on Google to see what other review sites show up on the first page. There's also a section in your knowledge panel called "reviews from the web" that showcases your ratings from other review sites. You want to make sure that you're working to improve your reputation on all the platforms that are visible to potential clients.
3. Make Sure Your Contact Info Is Accurate
According to Bright Local 64% of consumers have used Google My Business to find contact details for local businesses. If you're going to put in the work to be visible and prove that you're the best lawyer for the job - don't blow it when that client is ready to contact you. The same research found that 50% of consumers would be deterred from using a local business if the contact information is out of date on the website. In summary, audit your website and GMB to make sure they have matching and up-to-date contact information.
4. Add Your Own Questions And Answers To Your Listing
GMB has a Q & A and feature that allows consumers to ask questions about your business, and all those questions sit in your knowledge panel for everyone else to see. First of all, answer any questions you get as productively as possible. It doesn't make you look very good if you appear to be ignoring your clientele. Second, you can add your own questions and answers so there's an FAQ section directly on your listing to address common questions or objections. Answering these questions up front can help build trust and spare you answers the same questions over and over again.
5. Add Quality Photos
Do you have a beautiful office space? You might be surprised by how many views GMB listing photos can get. It's a great opportunity to differentiate yourself and paint a clearer picture of what the experience is going to be like at your firm. Imagine you're considering two different law firms, one has generic or dimly lit photos while the other has high quality photos of a tidy and professional looking space, where would you go?
6. Capture Attention With Google Posts
Some SEO professionals have demonstrated that there may be a small correlation between rankings and actively using Google Posts, but there's much more to gain than just rankings. The knowledge panel for a local business gets a lot of eyeballs whenever customers do a direct search for the business name. Posts are a great opportunity to showcase your offers and promotions that might make those customers more likely to take action. With so much information on Google My Business and less searchers actually visiting your website, this might be your best opportunity to attract new leads with a compelling offer.
7. Make Your Listing Stand Out With Products & Services
Businesses can add products and services directly to their Google listing so potential clients can see at a quick glance exactly what you offer. Products are visible on both desktop and mobile versions of the knowledge panel with graphics to make your listing stand out ( below ). A list of services can also be added which is showcased on mobile only.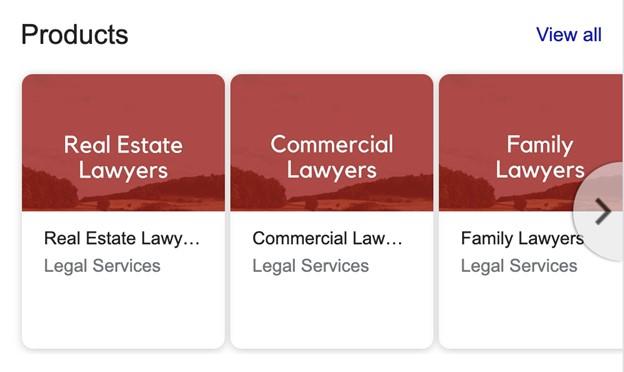 8. Don't Forget Attributes
Google is regularly adding new attributes so law firms can share more of the highlights and amenities that set the business apart from the competition. Some of these attributes are visible under the "about" tab on mobile knowledge panels. This includes items like if the firm is women-led or has washrooms available for clients. Other attributes can be showcased in the local pack to make the firm stand out like if they offer online appointments or online scheduling.
After implementing these 8 Google My Business optimization tips your law firm will quickly have the most compelling Google listing on the block. Not to mention higher rankings and more client acquisition opportunities. You'll only wish you spent more time on GMB sooner!
Patrick Leonard is the Founder of Brighter Digital, an Edmonton-based digital marketing agency. He's interested in all things local search marketing to help businesses better connect with local consumers.
---
comments powered by

Disqus