The 'Must Have' Documents to Marry Abroad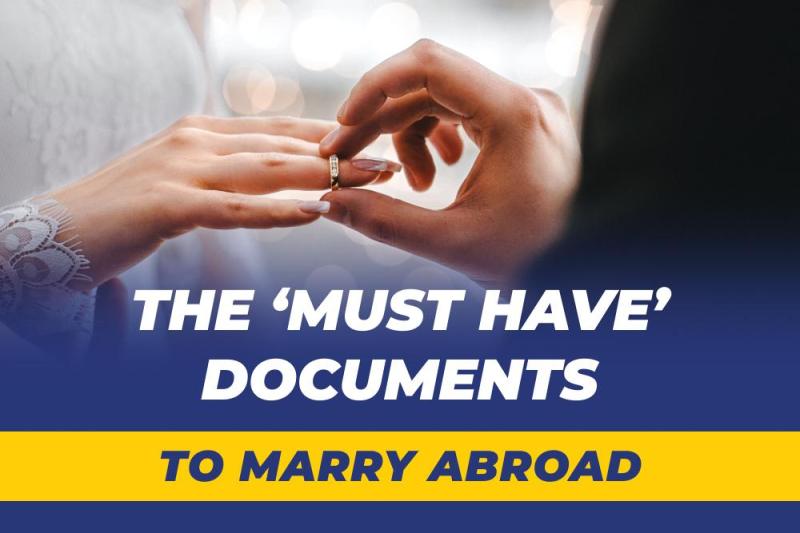 Wedding preparations can be an exciting but daunting task. You have to decide whether you'll have an intimate ceremony or a big celebration.
Another thing to consider is whether you'll have the wedding right in your hometown or have an overseas marriage. If so, which countries allow foreigners to get married?
Marriage tourism has become increasingly popular. The top 10 places to get married in the US might not be enough anymore. Couples from different countries wish to tie the knot in a unique and romantic setting.
But before you can make any plans for your wedding abroad, certain documents have to be taken care of first. Read on to learn more about the must-have documents required to marry abroad.
Must-have documents for getting married overseas
These are the documents you must prepare for an overseas wedding:
Valid passport requirements
A valid passport is crucial. First, it's needed for entering the country you're planning to wed in. Second, it's required for any legal paperwork needed after the wedding.
Make sure your passport is up-to-date and valid for at least six months from the date of your wedding. As a US citizen getting married abroad, you may need a visa to enter some countries. Research the requirements for your destination and apply for a visa in advance if needed.
Birth certificate and proof of civil status
A birth certificate is the first and foremost document you must have when planning to get married in a foreign country. It's proof of your age and citizenship in the United States.
You'll also have to show proof of your civil status. Single status certificates prove that you are legally unmarried. Meanwhile, divorce decrees are necessary to show you're legally allowed to get remarried.
Affidavit of Eligibility to Marry
The Affidavit of Eligibilty to Marry is an official document. It attests to the fact that you and your partner are legally allowed for marriage overseas. It's not a document issued by the US government.
You have to get it from the country where you're planning to tie the knot. The Affidavit of Eligibility is typically filled out by a lawyer or notary public. It requires proof of identity, such as a passport or driver's license.
Pre-nuptial agreements and marriage license
A pre-nuptial agreement is a written agreement between the couple. It outlines their individual financial rights and responsibilities before they get married. This document can help avoid disputes in case of separation or divorce.
It specifies who will own what assets, how debts will be paid off, and more. It's especially important if one partner has more financial resources than the other.
A marriage license is also necessary for your wedding to be legally binding. This document proves that you meet all the legal requirements to get married abroad.
Legalized and translated documents
Some countries will require you to provide legalized and translated documents. You need to have copies of your paperwork in the language of your destination country.
It can include passports, birth certificates, proof of residence, and other documents. Additionally, some countries may also require that these documents be stamped by an embassy or consulate from your home country.
Medical certificates and records
A medical certificate proves that both partners are healthy and fit for marriage. This is one of the requirements for getting legally wed. Additionally, each partner will need to provide proof of vaccinations they have received.
How to get married abroad
Those who were lucky enough to find a wife overseas might have realized that it is not an easy process. Getting married overseas requires a great deal of paperwork and planning.
While it's the same in the US, the distance involved can add to the complexity of the process. These are the steps to take to ensure the whole process goes smoothly:
Research the destination country's marriage requirements
it's important that you research the marriage requirements and legalities for your chosen destination. Different countries have different laws and regulations regarding marriage. It's critical that you familiarize yourself with these before making any plans or purchases.
For instance, some countries require an Affidavit of Eligibility to Marry. This document is essentially a sworn statement from you and your partner.
With this, you declare that you both meet the legal requirements to marry. It may need to be witnessed by a lawyer or notary public. Furthermore, it must be approved by the country's local authorities before it can be accepted as valid for marriage.
Get a valid passport
Next, you must make sure that you have a valid passport. It should be accepted in the country where you are planning to marry. It is important to check with your embassy or consulate to make sure that your passport is up-to-date.
Prepare the requirements
Collate your legal documents and prepare for your destination wedding. It is important to make sure you have all of the necessary paperwork in order before traveling. This way, nothing will hinder your big day.
Depending on where you intend to marry, there will be various requirements. These must be adhered to in order for your marriage to be legally recognized.
Visit the local embassy or consulate
If you can, visit the embassy or consulate of the country you want to get married in. You'll need to learn which documents are required for marriage.
You can also discover if there is any special paperwork needed for your particular circumstances. This can be anything from a prenuptial agreement to documents for religious ceremonies.
Plan ahead for legalizations and translations
Two aspects you might not know about getting married abroad are legalization and translations. This is the process of having documents translated and authenticated by a foreign government before you can get married there. It's important to plan ahead for this, as it can take up to several months.
If you're in California, find reliable document translation services in Los Angeles to help. These providers offer both translations and legalizations services to ensure your foreign documents are accepted. They can translate birth certificates, marriage licenses, and more.
Procure a marriage license
You'll need to apply for a marriage license. This is easily done through an online application but can take several weeks to process. Make sure you plan ahead. Allow plenty of time for it to be approved before your wedding date.
You should also check with local authorities about any additional documents needed. There may also be specific instructions they require when obtaining a marriage license.
How to get married overseas military
Those in the military are able to find a wife abroad. If you're one of them, you still need to follow the steps above.
An additional document you need to show is your Military ID or DD-214. This document is proof that you are or were part of the military. As such, your foreign spouse will become eligible for certain benefits when you're married.
Best places to get married abroad
What countries can I legally get married in? Take a look at some of the best countries to get married in:
Marriage in Italy for foreigners
Some consider Italy to be the best place to get married abroad. You can enjoy the stunning scenery and breathtaking architecture. You will need to provide identification documents, such as your passport. Residence in Italy entails obtaining a permit from the town hall.
Additionally, you must also present a certificate of non-impediment or Atto Notorio to marry. This proves that both parties are free to get married for your wedding in Italy. It must be
Each municipality may have different requirements for paperwork before you can get married in Italy. Do your research ahead of time to make sure you have all the documents needed. All documents must also be legalized and translated to Italian.
Civil marriage in Dominican Republic
Have you been wondering how to get married in Dominican Republic? Another easiest place to get married abroad is this beautiful Caribbean country.
Foreigners getting married in Dominican Republic must submit copies of their passport. They must also have proof of Dominican residence. If they don't have one, an additional fee will be charged. Plus, they must show their tourist card.
A document for eligibliity to marry is also needed for the Dominican Republic marriage records. If you're a foreigner marrying a Dominican Republic citizen, you will need to pay RD$10,000. Residency requirements apply.
Bahamas wedding requirements
The Bahamas is an ideal choice for couples looking to celebrate their special day in a tropical paradise. You can enjoy a beautiful beach wedding location complete with white sands. It's the easiest country to get married for foreigners.
You'll need to accomplish the declaration form. It is a legal requirement that the bride, groom, and a witness must sign. You'll also need to get a marriage license form.
Another document needed is your birth certificate. You'll also need to submit a copy of your ID and divorce or death certificates, if applicable.
Getting married in Aruba requirements
Those who want to get married in Aruba must have valid passports. They should also have a certificate of no impediment. This is also known as a single status report.
The applicant is also required to bring a copy of their birth certificate. Moreover, they must have two witnesses who are over 18 years old with valid identification.
Celebrate your wedding abroad
Destination weddings are a great way to celebrate your special day in a unique and exotic wedding venue. However, with greater rewards come more responsibilities. Specifically, foreign citizens must acquire all the necessary documents for marriage to be valid in two countries.
You should start your preparation for the documents you need to marry abroad well in advance. Make sure that all of the paperwork is valid and up-to-date before submission.
Also, be sure to research their local laws and regulations to ensure a smooth process. You can find trusted wedding planners in the locality to help.
Lastly, make sure to find a credible and reliable legalization and translation service provider. They can help you ensure that all of your documents are properly certified.
It's best to do all the legwork weeks or months before your big day. Afterward, you can enjoy your big day without worrying about legalities or document issues. With the right documents in hand, nothing will stand between your union.
---
More to Read:
---
comments powered by

Disqus